Meet Our Team:
Dr Shashank Joshi
Dr Shashank Joshi completed Dental school in 2004. His interest in business and the desire to manage complex organizations, like a dental practice, lead Dr Joshi to pursue a Masters in Business Administration at Arizona State University. While working for a hospital based dental center in Chicago Dr Joshi met his wife, who is an orthodontist, they got married in 2015. Dr Joshi and his wife have two young children to enjoy.
Dr Joshi completed his Periodontics Residency program at the University of Maryland School of Dentistry in June, 2018. The Periodontics program at Maryland is one of the most respected programs in the country with a rich history of producing great clinicians over the years. It is the only program in the country which trains its residents in microsurgery.
Dr Joshi finished one year Fellowship in Implant Periodontal – Prosthodontic program at Univ. of Maryland. It is also the only program in the country that provides a unique experience in Prosthodontic aspect and Digital Implant dentistry. Dr Joshi was a finalist for the Richard J Lazzara Fellowship award in Advance Implant Surgery during this fellowship program. Dr. Joshi is a Diplomate of American Board of Periodontology.  Currently Dr. Joshi serves as Secretary/Treasurer of Umpqua Dental Society.
Dr Joshi loves treating his patients as family and believes in forming lifelong relationships. He is compassionate in his care and is trained in the latest tools and technology in Periodontal and Implant dentistry. Dr Joshi's goal is to improve the lives of his patients and the community he serves. He believes in giving back to the community and frequently engages in charity giving and volunteering at the local church he attends with his wife.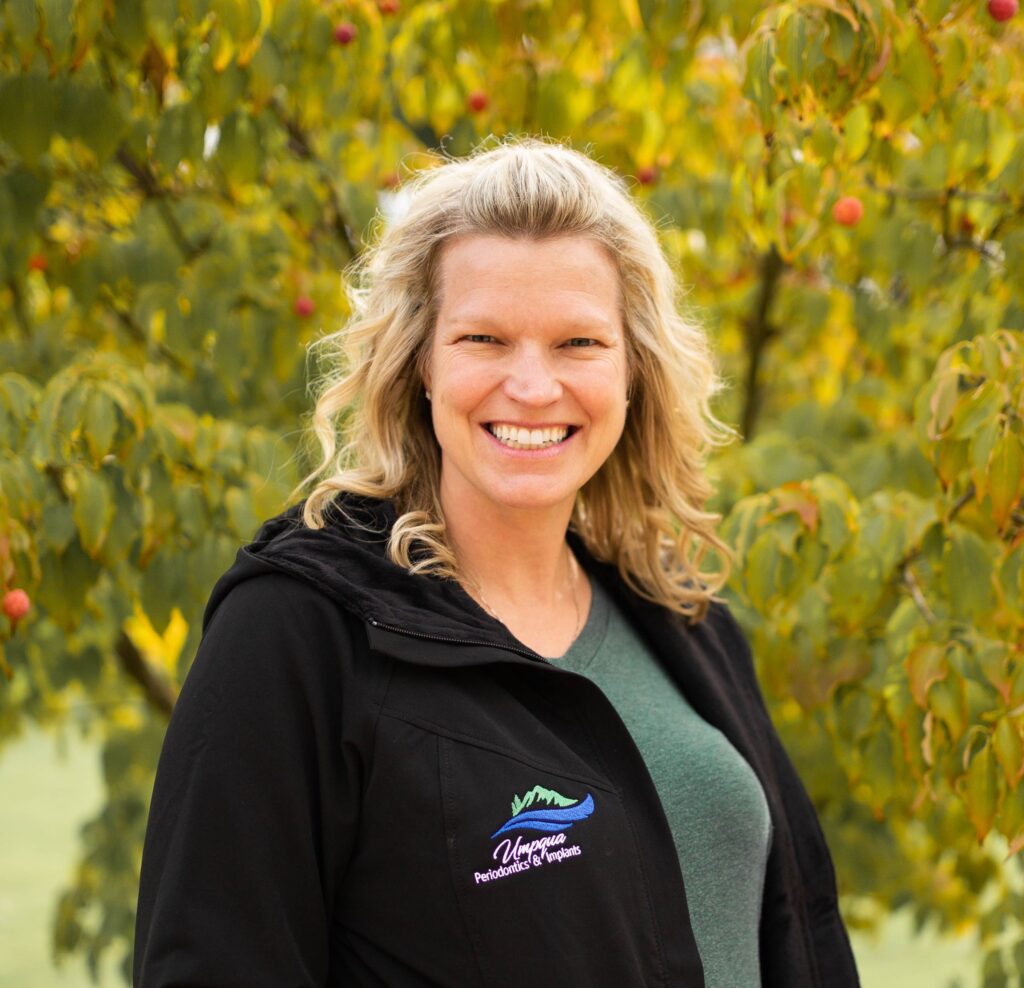 Gretchen Has been in the dental field for 29 plus years, she received her dental assisting license in 1996. She has worked as an office manager for the last 15 years. Gretchen started working at Umpqua Periodontics in November of 2016. She looks forward to helping patients get the treatment they need to better their dental health, and to see the glowing smiles when they leave.
Gretchen was born and raised in the Umpqua Valley. Gretchen is married to her Husband of 19 years and they have one son in high school. She loves to spend time with her family and friends/ Her interests include camping, traveling, volunteering and going to watch her son and husband do their hobbies.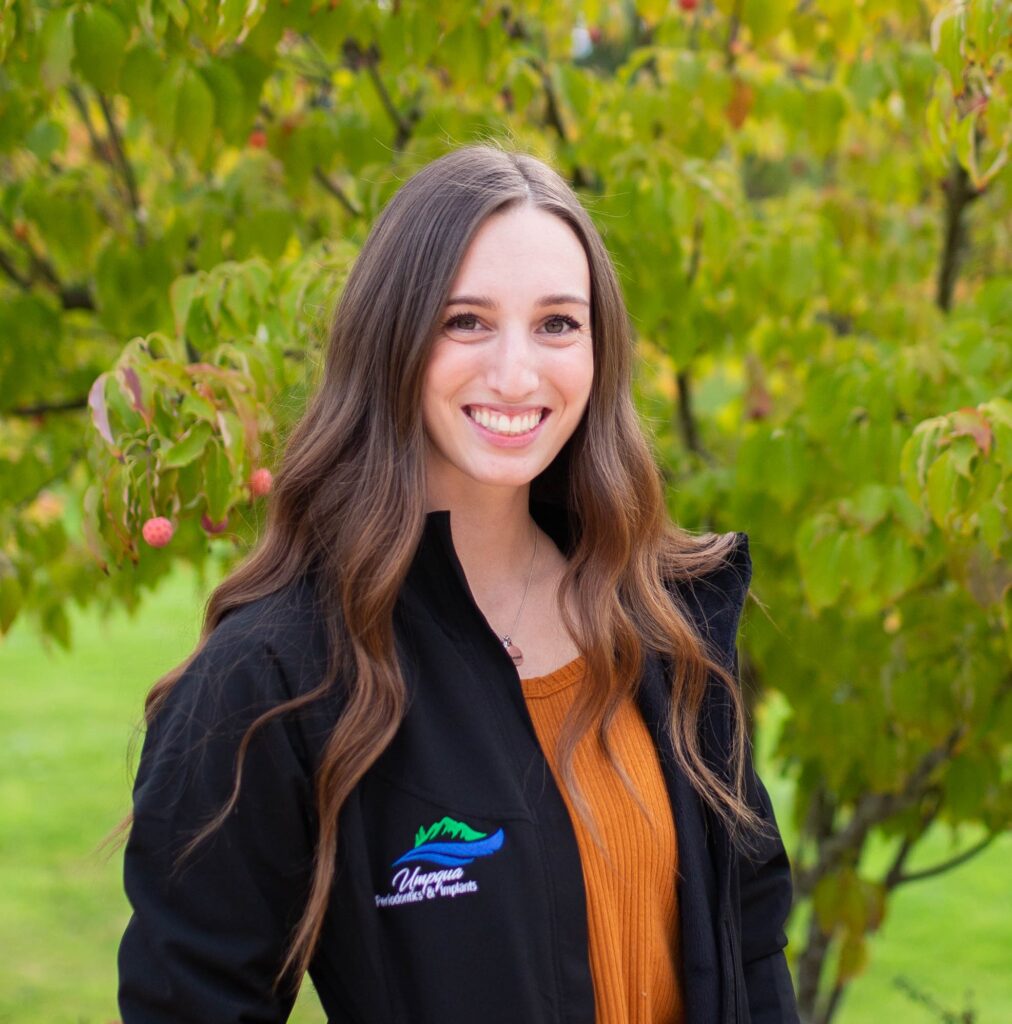 Mia Lahley graduated from UCC with her dental assisting certificate and AAOT in 2018. She now works as a receptionist and enjoys the office side of the dental field. She loves connecting and developing relationships with patients, and watching them leave with a smile. 
On her off days she spends her time working on her photography business, taking family photos, senior portraits, weddings, and much more. She also enjoys road trips, being outdoors, spending time with friends and family, and going wine tasting.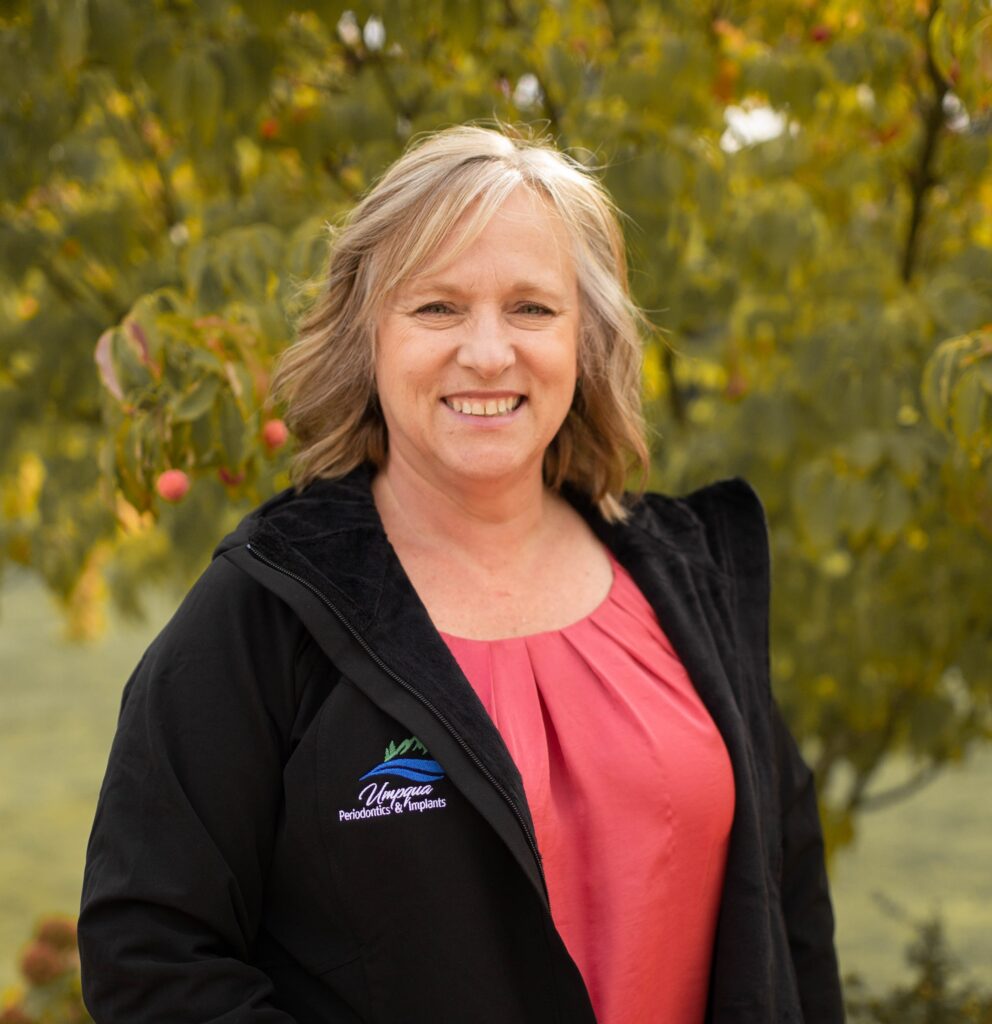 Teresa received a bachelors of Science degree in Dental Hygiene from Loma Linda University in 1991, and has been with Umpqua Periodontics since 2017. She enjoys the challenges that come with practicing in a periodontal office and has a heart for each of her patients. She especially feels satisfaction when she can help people with previous negative memories of dentistry become comfortable while receiving care.
Teresa is married to her high school sweetheart and has two grown sons. She has a wide range of interests including remodeling her home, gardening, camping, and quilting.
Kiela Manes, Coming soon!